Special Rosettes
Our Special Collection is ideal for high profile awards.
All our Rosettes can be made in any combination of colour of pleat with stars or petals added to give maximum effect.
Tails can be gold blocked with wording of your choice.
Price Includes:
2.5" Centres printed as required.
Choice of tapes, pins or bridle clip backing.
3 Tier Ruffle Pleat Cone Rosette.
3 x 12" tails
Shown here in Red/White/Blue

Broad Ruffle Pleat, Gold Border, 1 Tier Rosette.
3 x 8" tails
Shown here in Blue/Gold Line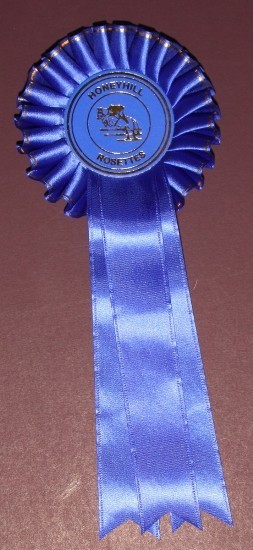 4 Tier Standard Pleat Rosette with 8 Outer Stars.
3 x 16" Tails
Shown here in Red/White Stars/Red/White/Red

3 Tier Ruffle Pleat, 1 Tier Standard Pleat, 1 Tier Inner Stars (8)
Gold border tier + tail
3 x 16" Tails - 1 Printed
Shown here in Navy Gold Line/Gold/Maroon/Champagne/Navy Stars

Broad standard pleat, Large stars, 3 Tier Ruffle Pleat
1 Tier and Tail Gold Border
3 x 16" tails - 1 Printed
Shown here in Broad Red Gold Line/White Stars/Red/White
Broad standard pleat, Large petals, 3 Tier Ruffle Pleat
1 Tier and Tail Gold Border
3 x 16" tails - 1 Printed
Shown here in Broad Maroon Gold Line/Champagne Petals/Maroon/Gold/Champagne

Broad standard pleat, Large petals, 3 Tier Standard Pleat with small stars inbetween
1 Tier and Tail Gold Border
5 x 16" tails - 1 Printed
Shown here in Broad dark green gold line/gold petals/maroon/gold stars/green/maroon

American Ribbon Petals with 2 Tier Ruffle Pleat Centre.
3 x 24" Printed Tails on American Ribbon.
Shown here Large Red Petals/Gold/White