Honeyhill Rosettes
Honeyhill Rosettes supply the finest quality rosettes, ribbon awards and custom printed ribbon at the most competitive prices with the best possible service.
Whatever the event or occasion we can supply high quality products.
Corporate events, agricultural shows, horse shows, dog shows, flower shows, village fairs, gymkhanas, social clubs, football teams and weddings to name just a few, and will dispatch to all areas of the U. K and Ireland
All our rosettes are made from top quality satin ribbon, and are produced to very high standards of quality and finish.
Colours can be chosen from the following: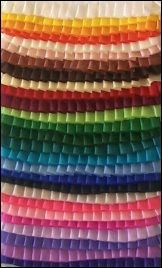 Colours from the top: white, yellow, gold, orange, cream, peach, bronze, brown, champagne, red, maroon, light green, green, dark green, jade, aqua, light blue, blue, navy, silver, cerise, pink, magenta, lilac, helio, petunia, purple, black.
Rosettes can be made in any combination of colour or pleat, with stars or petals to give maximum effect. Tartan, spotted & gold edged ribbon is also available from stock. For that special event ribbon can be printed to your own unique design. Tails can be gold blocked with wording of your choice.
Motifs - a large selection of motifs are available for rosette centres and badges. Personalised Motifs can also be made.
Please feel free to have a look at our products. Our brochure and current pricelist can be downloaded here
Orders can be submitted by telephone or email and we accept all major Debit and Credit cards. Euro is also accepted
Please contact us regarding last minute orders, and we will endeavour to meet your requirements.